Gulshan Grover As Villain In 'Casino Royale'
[Tuesday, October 4th, 2005]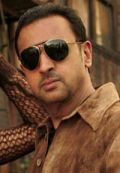 Indian actor Gulshan Grover is to play the villain in the next Bond movie Casino Royale, according to the Times of India.

Bollywood's 'bad man' Gulshan Grover is elated. Come January 2006, he will be off to Prague to play what he calls "the ultimate villain." It's official.

Over the last few months, speculations were on that Grover might clinch the coveted role, but the actor preferred to be cautious. As he puts it, "I don't like to create a hype; I am a very practical person. I am not aiming to become a Hollywood star. I will always be a part of Indian films."

E-Mail This Article » Share your comments on 'Casino Royale'