Daniel Craig May Be Next Bond In 'Casino Royale'
[Thursday, October 13th, 2005]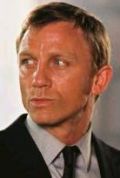 Daniel Craig is expected to be unveiled as the new James Bond tomorrow, according to Variety

Friday (Oct. 14) at a press conference taking place aboard the HMS President, which is moored on the Thames near Londonís Tower Bridge. The announcement will end a week of intense speculation in the British press about the identity of the sixth actor to play 007.

Craigís star has been on the rise since he won plaudits for his assured portrayal of a cerebral gangster in Matthew Vaughnís Layer Cake

The frenzied press speculation could not have come at a better time for Britainís foreign spy service MI6, which today launched a recruitment website, marking the first time the secretive org has publicly appealed for staffers.

Casino Royale goes into production in January with Martin Campbell directing.

E-Mail This Article » Share your comments on 'Casino Royale'