Angelina Jolie In Talks For 'Casino Royale'
[Monday, October 17th, 2005]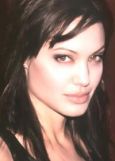 Angelina Jolie is said to be in talks to be the new Bond girl, according to UK newspaper The Sun.

Producers are keen to sign her up to play Vesper Lynd, a Russian double agent who beds Bond.

A source said: "Angelina is simply perfect for the part of the ultimate Bond girl."

Daniel Craig was confirmed as the new 007 last week. Angelina and Daniel starred in Tomb Raider together.

E-Mail This Article » Share your comments on 'Casino Royale'