Naomi Watts Linked To 'Casino Royale'
[Friday, January 6th, 2006]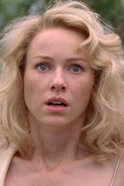 Naomi Watts is the latest actress to be linked to the new James Bond film, according to Ananova.

Producers are said to be impressed by her performance in King Kong and want her to star in Casino Royale. Naomi is believed to have already had a phone call from Bond team Eon Productions inviting her to screen test for the role of Russian vixen Vesper Lynd in Casino Royale.

According to sources, she is expected to turn down the role due to the 'Curse of the Bond Girl' suffered by Halle Berry, who has had no major hits since starring in Die Another Day in 2002.

"People are worried about being typecast," a source told The Sun. Angelina Jolie and Charlize Theron have reportedly already rejected the role.

E-Mail This Article » Share your comments on 'Casino Royale'