Thandie Newton Denies 'Casino Royale'
[Monday, February 13th, 2006]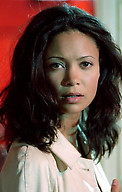 Crash star Thandie Newton has denied reports that she has been cast as the next Bond girl in the 21st James Bond movie Casino Royale.

"That isn't happening," she told IMDb. "It was a big rumour I enjoyed very much because it gave me an opportunity to fantasise about something that wasn't ever going to happen."

The movie is currently filming in Prague, with new James Bond, Daniel Craig.

E-Mail This Article » Share your comments on 'Casino Royale'