Eva Green Is 'Casino Royale' Bond Girl
[Friday, February 17th, 2006]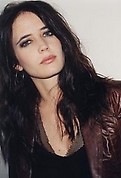 French actress Eva Green has been cast as the female lead for the next James Bond movie, Casino Royale.

Green will play femme fatale Vesper Lynd in the movie opposite Daniel Craig, who will be making his debut as 007.

"After an extensive search we found the perfect actress," said the producers. "She brings to the complex role of Vesper an exciting combination of enigmatic and seductive beauty."

Other stars lined up for the movie include Mads Mikkelsen as villain Le Chiffre, Giancarlo Giannini as Mathis, Caterina Murino as Solonge, Simon Abkarian as Dimitrios, Tobias Menzies as Villiers, Ivana Milicevic as Valenka, Clemens Schick as Kratt, Ludger Pistor as Mendel and Claudio Santamaria as Carlos.

E-Mail This Article » Share your comments on 'Casino Royale'