Daniel Craig Talks 'Casino Royale'
[Wednesday, March 29th, 2006]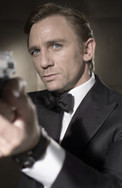 Daniel Craig has assured fans that the traditional Bond elements will be in place for the upcoming James Bond movie Casino Royale.

Craig says that his portrayal of James Bond makes the agent more human and fallible. "I just wanted to see him make a few mistakes. I want to make the audience believe that it's all going to go wrong and then when it goes right it's much more exciting," he told the BBC.

Filming the action scenes were quite demanding, Craid added. "Every day you pick up an injury and you're battered and bruised. If you're not physically fit then it's difficult to get through."

Craig says that Bond fans won't be disappointed with the new movie. "I'm a Bond fan. If I go and see a Bond movie there are certain things I think should be in it. And they're there. We've got them in spades."

E-Mail This Article » Share your comments on 'Casino Royale'