'Casino Royale' Crew Fear Haunted Plane
[Thursday, August 17th, 2006]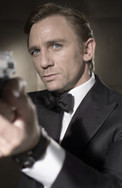 The crew of James Bond film Casino Royale are said to be refusing to board a stunt jumbo jet for the movie, claiming its haunted.

The workers say the fear the spirit of a passenger who died from a heart attack on board. Lights and warning systems are said to have come on during filming, even though the jet has no power. They also claim to have seen the woman's ghost gliding up and down the aisles of the 30-year-old plane.

"We were asked to stay on it overnight for one scene, but several of the crew refused," a crew member told The Sun. "Some won't get on board at all because of the ghost. It's been a real problem."

A spokesman from the studio added, "I cannot discuss the film but I am aware of the plane being haunted. Everyone knows the story."

E-Mail This Article » Share your comments on 'Casino Royale'