UPDATE: Bussell To Star Alongside Brosnan
[Tuesday, April 3rd, 2001]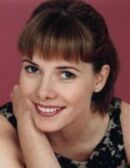 Ballerina Darcey Bussell is to star alongside Pierce Brosnan in the new 'James Bond' movie. She is said to be preparing to wear an all-over rubber catsuit for the title sequence.

Bussell has previously appeared in 'True Blue'. The premise of the movie is about the annual Oxford and Cambridge boat race, where things change from a gentleman's race to one where winning was everything.

Bussell said: "I adore James Bond films with Sean Connery being my favorite Bond of all time. But I am really looking forward to working with Pierce Brosnan who I had met a few times at the Opera House before I auditioned with him."

Filming is due to start at the end of August with the title sequence being filmed at the Royal Opera House.

Other members of the Royal Ballet will also appear in the film which will include a specially choreographed ballet by Ashley Page.

With the filming starting just six weeks after the expected birth of her first child, Bussell is keeping up her schedule of daily ballet class.

Originally appeared on Ananova

UPDATE: We can now reveal that Darcey revealed the news as an April Fools prank. To view the article on her website click here.

E-Mail This Article » Share your comments on 'Die Another Day'