Russell Crowe As Next 007?
[Wednesday, April 4th, 2001]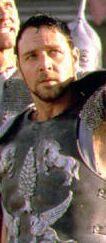 A source for MSNBC says that the producers of the James Bond series are trying to get the Aussie hunk to take over the role of 007 from Pierce Brosnan. "[Brosnan] is asking for more than $20 million and editorial control," says the insider. "He has been grumbling that he wants out of the role."

"Crowe would be a new twist for Bond — a Bond for the new millennium," says another source. "He would appeal as much to women as men."

Crowe's spokeswoman didn't return calls, and when called for comment, the producers of the Bond series said that Brosnan would star in at least one more Bond film. When asked if they were in discussions with Crowe about taking over the role, the office issued a terse "no comment."

Thanks to 'JR' for the lead.

E-Mail This Article » Share your comments on 'Die Another Day'