'American Psycho' Next Bond?
[Thursday, April 26th, 2001]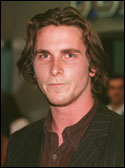 Empire Online interviewed Christian Bale where he threw his name into the ring of possible Bond candidates. In the interview he compared James Bond with the psychotic killer he played in 'American Psycho'. "I suppose there are actually a number of character traits that are similar between Bond and Patrick Bateman," drawls Bale, "a complete lack of remorse in killing people, both are utter misogynists."

As to the question of taking on the role of Bond, if he was asked, Bale says, "I've only thought of it because a couple of people have mentioned it since American Psycho...Certainly if I was going to do it, it wouldn't be for a long time."

E-Mail This Article » Share your comments on 'Die Another Day'