Exclusive New James Bond Picture
[Monday, February 25th, 2002]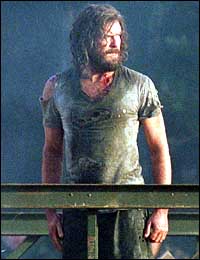 UK newspaper The Sun got a picture of Pierce Brosnan in the new Bond movie. Below are some very small spoilers, from the paper.

Bedraggled Bond is left unshaven, if not stirred, after being held captive for months by rebels in North Korea.

The picture shows tense 007 on a bridge as he is handed over to South Korea.

One onlooker at the film shoot said: "Even Miss Moneypenny or Q would have trouble recognising him — he looks more like Grizzly Adams."

The scene was filmed at a secret location in Berkshire last week

The movie is set to be released near November 2002.

E-Mail This Article » Share your comments on 'Die Another Day'