Naomi Watts To Be King Kong's Female Friend
[Friday, December 5th, 2003]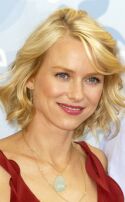 King Kong is taking a fancy to Naomi Watts (The Ring) in Peter Jackson's remake of the classic movie King Kong.

"It's looking OK" for Watts to sign a contract to play Ann Darrow, Fay Wray's role in the original film, Jackson told Wellington's Dominion Post newspaper.

Jackson met Watts in London in October to show her some designs for the remake of the movie, to be shot against a stylized period backdrop of New York City.

"She got really excited and it was great. Naomi's the only person that we've really approached because she's becoming so eagerly sought after by everybody," Jackson said.

Shooting on "King Kong" is planned to start next August.

E-Mail This Article » Share your comments on 'King Kong'