Andy Serkis Takes 'King Kong' Title Role
[Friday, June 11th, 2004]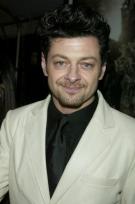 Andy Serkis, who recently portrayed Gollum in the "Lord of the Rings" series, is set to be reunited with Peter Jackson by landing the title role for the King Kong remake.

Alongside Kong, Serkis will also play the role of Lumpy the cook, a member of the crew of the Venture, the tramp steamer that sails to Skull Island.

"I expect this time round will be a very different experience for both Andy and myself as we'll actually get to shoot extended drama sequences together," Jackson tells the Hollywood Reporter. "It will be a little weird seeing Andy out of his Gollum gimp suit -- and I hope we can both make the adjustment!"

Jackson adds, "While Andy will provide very valuable onset reference, this doesn't mean we will be softening Kong by attempting to humanize him. The power of the story lies in the fact that this is a savage beast from a hostile environment, and we don't intend to compromise that."

E-Mail This Article » Share your comments on 'King Kong'