Will Ferrell In Comedy 'Land Of The Lost'
[Monday, April 25th, 2005]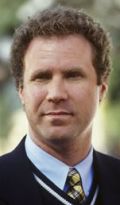 Will Ferrell is attached to star in the comedy Land of the Lost, according to the Hollywood Reporter.

Movie is based on the classic television series of the same name. Adam McKay is attached to direct, with Chris Henchy and Dennis McNicholas signing on to adapt the screenplay.

The original Land of the Lost series revolved around forest ranger Rick Marshall and his children, Will and Holly, who are caught in a time vortex while exploring the Colorado River on a raft and transported to a mysterious world.

The feature film will be an update of the series, which ran from 1973-1977 on NBC and is due out on DVD this month.

E-Mail This Article » Share your comments on 'Land of the Lost'