Lemony Snicket's Director Talks About Jim Carrey
[Thursday, June 3rd, 2004]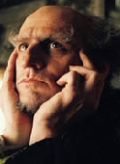 Jim Carrey

Director of the upcoming fantasy movie Lemony Snicket's A Series of Unfortunate Events, Brad Silberling, talked to SCI FI Wire about his relationship with Jim Carrey.

"We had an instant blast," Silberling said in an interview on the film's set in Downey, Calif. "What I was surprised by is [that] he has a great storytelling head. He thinks in terms of the storytelling, and he's not just sort of working ... from 'Wow, what can I do that's going to be funny?'"

Carrey plays the orphans' elderly thespian relative in heavy makeup. "We started riffing, and in the space of a couple of hours [in] our first meeting, [we] came up with many key moments in the movie," Silberling said. He aded, "We're covering the first three books of the series. In each book [Olaf] shows up in a new incarnation, sort of like a Peter Sellers role for him. And just the other day we did his last character, and we hadn't worked out the details of that character until last week. And what's been the fun on the journey is that we've kept it spontaneous, so that three days before we're going to shoot, we go, 'Oh, God, what are we going to do?' We experiment with a look, and we just came up instinctively with this process where I'd put him in front of [the] camera, I'd have a sound mixer, and I would just start interviewing him as if he were this character. Because I wanted to learn about the character, and he did too. And he's so quick that I guarantee you [that] a good half, or more than half, of his dialogue in this movie is coming out of these riffs that would come from our doing these little interviews. And then we would get them transcribed and look, 'Oh, my God. That's fantastic. This was great. That was fantastic.' So it was a really organic process."

Carrey has said in the past that he had worked up one accent for Count Olaf, then changed it once he saw his finished makeup."Well it was just funny," Silberling said. "The look does so much of the work. ... I talked to him about young Orson Welles, ... when you think about the sort of incredible hubris [Olaf has]."
More On 'Lemony Snicket's A Series of Unfortunate Events'...


E-Mail This Article » Share your comments on 'Lemony Snicket's A Series of Unfortunate Events'