More Changes For LOTR Sequels
[Friday, December 21st, 2001]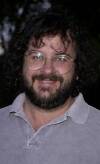 Lord Of The Rings director Peter Jackson says he will continue to tinker with JRR Tolkien's original books.

He has previously been criticised by some fans for changes he made in the first film 'The Fellowship Of The Ring.' But he insists there will be further departures from the author's plot in the next two films.

In 'The Fellowship Of The Ring,' the biggest change was the invention of an enemy warrior called Lurtz.

Jackson said moviegoers could expect to see expanded roles for several characters in 'The Two Towers', the second part of the 'The Lord Of The Rings' trilogy, reports Ananova.

"Some are slightly bigger in some instances," Jackson said.

There will be expanded roles for Rohan King Theoden and his nephew Eomer.

Jackson said rough cuts have already been made of the second and third films.

'The Two Towers' will be released at Christmas 2002. 'The Return Of The King' is set for screening around Christmas the following year.
More On 'The Lord of the Rings: The Two Towers'...


E-Mail This Article » Share your comments on 'The Lord of the Rings: The Two Towers'