Sam Rockwell Joins Obsessive-Compulsive Cage
[Friday, June 7th, 2002]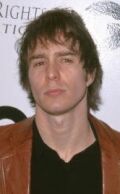 Sam Rockwell is in early negotiations to star opposite Nicolas Cage in Warner Bros. Pictures' drama "Matchstick Men" with Ridley Scott directing. Production is slated to begin in the summer.

Based on the yet-to-be-published novel by Eric Garcia, "Matchstick" is described as being in the vein of "Paper Moon." It is the story of a con man (Cage) with obsessive-compulsive disorder whose orderly life is threatened by the appearance of a daughter he never knew. Rockwell would play the lead role of the con man's partner Frank Mercer.

Ted Griffin ("Ocean's Eleven") and his brother Nick Griffin adapted the project, which Warners optioned for mid-six figures two years ago (HR 3/29/00). Robert Zemeckis and Jack Rapke are producing the project through their Imagemovers with Sean Bailey and Ted Griffin.

E-Mail This Article » Share your comments on 'Matchstick Men'