Lohman Joins Cages 'Matchstick Men'
[Monday, July 29th, 2002]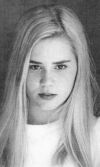 Alison Lohman ("White Oleander") has joined the cast of Warners' Nicolas Cage vehicle "Matchstick Men," reports Variety

A comedy-drama directed and produced by Ridley Scott, "Matchstick Men" also stars Sam Rockwell.

Story follows a phobic con artist (Cage) and his protege (Rockwell), who are on the verge of pulling off a lucrative swindle when Cage's teenage daughter (Lohman) arrives unexpectedly.

Ted Griffin and his brother Nick adapted the script from the unpublished novel by Eric Garcia.

Robert Zemeckis is the executive producer. The film co-stars Bruce McGill and Bruce Altman.

Pic began shooting July 15 in Los Angeles.

E-Mail This Article » Share your comments on 'Matchstick Men'