Dreamworks Planning 'Meet The Little Focker'
[Thursday, July 14th, 2005]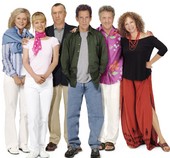 Universal Studios are said to be planning the third movie in the 'Meet The Parents' series - Meet the Little Focker.

Studio bosses are said to be keen to cash in on the success of the first two movies, with director Jay Roach expecting to return.

At the end of Meet The Fockers Ben Stiller's and Teri Polo's characters got married and were expecting a child. The new film will introduce the newest addition to the family, according The Sun.
More On 'Meet the Little Focker'...


E-Mail This Article » Share your comments on 'Meet the Little Focker'