Kelly Brook In MI:3 Lead Role Talks
[Friday, January 3rd, 2003]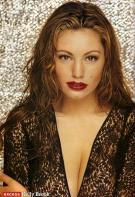 The UK Sun are reporting that Kelly Brook is being lined up for a role opposite Tom Cruise in Mission Impossible 3.

According to the newspaper, film bosses have been in talks with her about the possible female lead role.

But a film insider said: "Paramount, who make Sex And The City and release the Mission Impossible films, love her and want her for the film.

"There was even talk of her standing in should Angelina Jolie decide to quit Tomb Raider 2.

"Bosses think she will be great as Cruise's love interest in MI:3.

"She's sexy and she can act. Scripts are just being finalised now."
More On 'Mission: Impossible 3'...


E-Mail This Article » Share your comments on 'Mission: Impossible 3'