Frank Darabont Takes On 'Mission: Impossible 3'
[Wednesday, March 24th, 2004]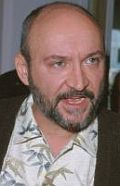 Frank Darabont (Shawshank Redemption) has been earmarked to write Mission: Impossible 3 replacing original scribe Robert Towne, according to The Hollywood Reporter.

Towne had begun writing the third installment of the action franchise but is now focusing on his long-gestating pet project Ask the Dust. In the works for more than a quarter-century, Ask the Dust is due to go into production next month in South Africa. Towne is adapting the Jan Fante novel of the same name as well as directing.

Set for release next year, Mission: Impossible 3 will see Cruise reprise his role as secret agent Ethan Hunt. A hugely successful franchise, Mission: Impossible, directed by Brian De Palma, brought in $453 million worldwide, and the John Woo-helmed Mission: Impossible 2 garnered $609 million.

Ask the Dust is based on the Depression-era novel by Fante. Salma Hayek is set to play the Mexican waitress who plans to move up in the world by marrying a wealthy American. Along the way, she meets a struggling Italian writer, played by Colin Farrell.
More On 'Mission: Impossible 3'...


E-Mail This Article » Share your comments on 'Mission: Impossible 3'