Carrie-Anne Moss Joins 'Mission: Impossible 3'
[Tuesday, April 20th, 2004]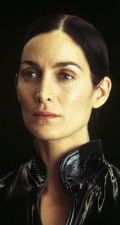 Carrie-Anne Moss (Matrix) has signed on to Mission: Impossible 3, according to The Hollywood Reporter.

Moss will take a leading role in the sequel, which will see Tom Cruise reprise his role as secret agent Ethan Hunt.

Emmanuelle Beart and Thandie Newton played the female leads in 1996's Mission: Impossible and 2000's sequel 'M:I-2', respectively.

Mission: Impossible 3 has been scouting locations in Ghana and Berlin, and are planning an August start date.
More On 'Mission: Impossible 3'...


E-Mail This Article » Share your comments on 'Mission: Impossible 3'