Billy Crudup Up For 'Mission: Impossible 3'
[Wednesday, August 31st, 2005]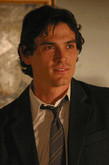 Billy Crudup has signed up for a lead role in Mission: Impossible 3, according to Variety.

Crudup joins stars Tom Cruise, Ving Rhames, Philip Seymour Hoffman and Keri Russell. Crudup will next be seen starring alongside Julianne Moore and Maggie Gyllenhaal in 'Trust the Man',

M:I3, helmed by J.J. Abrams, began shooting in July for a May 2 release.
More On 'Mission: Impossible 3'...


E-Mail This Article » Share your comments on 'Mission: Impossible 3'