'Matrix 2' Set Photos & Scene Descriptions
[Saturday, March 31st, 2001]
A source for AICN sent in a detailed set reports including plenty of pictures from the set featuring Morpheus, Trinity and some new 'Virus' bad guys, with broken BMW's!
According to their source, heres something they found impressive:


We saw a scene where the Catera swerves through the opposing traffic of a red-light, chased by the Escalades, and blocked by several police cars, which fishtailed to stop the Catera. All the cars converged on the intersection at the same time, and it was simply breathtaking to see the precision with which the scene was filmed. We watched 4 or 5 takes, and each time it seemed impossible for the cars to emerge unscathed -- but they just backed all the cars up and redid it until they were happy.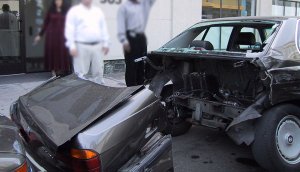 Check out the link above for more details and photos.
More On 'The Matrix Reloaded'...


E-Mail This Article » Share your comments on 'The Matrix Reloaded'