Jada Pinkett Talks 'Matrix Reloaded'
[Friday, November 30th, 2001]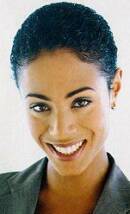 Cinema Confidential had a chance to put some questions to Jada Pinkett Smith at a 'Ali' conference. They asked questions on the sequel to 'The Matrix,' 'The Matrix Reloaded.' As she did not appear in the original, not much was known on what type of charachter she plays.



How difficult is it for her to shoot both films simultaneously?

Well, we're shooting two and three and we're also shooting a video game that has movie footage in it, a video movie. So, we're doing three projects at the same time and it's hectic.

What character does she play and what sort of training did she undergo?

Niobe is just basically the female version of Morpheus, very tough, very "no bull crap." She just puts it on the table. The type of training – I've just had to do a lot of…I had to go to Oakland for four months and do four months of Kung Fu training, wire training and I have to go back in February for 5 months of filming in Australia.


To read the rest of the interview click on the link above.
More On 'The Matrix Reloaded'...


E-Mail This Article » Share your comments on 'The Matrix Reloaded'