Nona Gaye Replaces Aaliyah As Zee
[Wednesday, April 10th, 2002]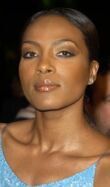 Nona Gaye is set to replace Aaliyah in the Matrix sequels as Zee. According to a Coming Attractions scooper, "An agent assistant friend of mine told me that while its STILL a touchy subject, the studio has chosen Nona Gaye to replace Aaliyah's character Zee in the sequel and that Nona, a good friend of Aaliyah was still wrestling with replacing the late star in the role."

Gaye's was most recently seen in "Ali", and yes she is the daughter of R&B legend Marvin Gaye

Moviehole also confirms initial report that Nona Gaye will play Zee in Reloaded. Further, the site reports that the actress arrived in Sydney two days ago and will begin filming her scenes starting next week.

Coming Attractions also report that the teaser trailer for "The Matrix Reloaded" will ship loose with all prints of "Star Wars, Episode II: Attack of the Clones". That film will debut in theaters on May 16.

By loose, we mean that the trailer for Reloaded will ship with the print of Episode II and will not be attached to the film. This means theaters will have the choice to either attach the trailer with Episode II or place it with other films. The final decision will remain with the managers.
More On 'The Matrix Reloaded'...


E-Mail This Article » Share your comments on 'The Matrix Reloaded'