Monica Bellucci Talks 'Matrix Reloaded'
[Thursday, January 30th, 2003]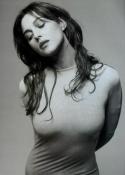 MatrixFans have posted a translated article from French magazine Studio in which Monica Bellucci spoke about her upcoming role as Persephone in The Matrix Reloaded. Beware of some minor spoilers.

ďThe only thing I can tell is the three main characters are still the ones played by Keanu Reeves, Carrie-Anne Moss, and Laurence Fishburne ; that Iím among the new characters who appear in the second movie and that I have a very small role in the third one. I got no action scene, well only one in fact, but one very special. Then I didnít have to jump on walls, nor practice martial arts like Carrie-Anne Moss who executes some unbelievable technical valors! [...]

ďActually the first thing I do when I arrive on the set is the rehearsals. I understand pretty quickly the Wachowski have a very definite idea of what they want! I meet Lambert Wilson who is absolutely lovely. I meet Keanu again. Iíve known him on Dracula (Coppola) when I started my carreer. I had only a small role in a sublime erotic scene ; I had to jump on a bed with some other girls and to kiss this handsome lad! And almost ten years later I have to make something very big with him Ė which I canít spoil, but itís not bad either! [...]

ďThen comes my first day of shooting. This wonít belong to the movie but to the video game which is meant to be released with the movie! The Wachowski are directing me... which is fun. Anyway, we shoot it like a movie. Itís cool because it allows me to enter this universe in a soft way. The next step is the real shooting. The place where itís done is extremly well protected and... HUGE! A city! Some days Iím sure more than 2000 persons are working on these sequels. Amazing!

Check out the link above for more!
More On 'The Matrix Reloaded'...


E-Mail This Article » Share your comments on 'The Matrix Reloaded'