WB To Adapt Sparks 'Nights In Rodanthe'
[Monday, July 22nd, 2002]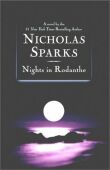 Warner Bros. has purchased rights to "Nights in Rodanthe," the latest work from the bestselling author Nicholas Sparks, reports Variety.

"Nights In Rodanthe" concerns a doctor who, on the way to reconcile with his estranged son, bunks at an inn along the way. There, the doc has a life-altering romance.

Title refers to a beach town in North Carolina, where the film will shoot.

Di Novi said it will be written quickly and designed as a star vehicle for the doc and his newfound lover. "Nick always finds a way to touch the heart on a human level," said Producer Di Novi.
More On 'Nights in Rodanthe'...


E-Mail This Article » Share your comments on 'Nights in Rodanthe'