Ann Peacock To Adapt 'Nights In Rodanthe'
[Monday, November 1st, 2004]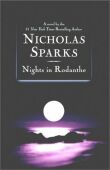 Scribe Ann Peacock is set to adapt Nicholas Sparks' Nights in Rodanthe, says the Hollywood Reporter.

'Rodanthe' tells of a doctor's life-altering romance that begins when he stops at an inn on his way to see his estranged son.

Sparks other romance novels adapted as movies include 'Message in a Bottle', 'A Walk to Remember' and 'The Notebook'.
More On 'Nights in Rodanthe'...


E-Mail This Article » Share your comments on 'Nights in Rodanthe'