Scarlett Johansson Set As 'The Other Boleyn Girl'
[Tuesday, July 18th, 2006]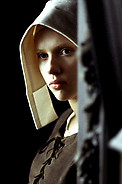 Scarlett Johansson will join Natalie Portman and Eric Bana in The Other Boleyn Girl, says Variety.

The feature, helmed by Justin Chadwick, follows two ferociously ambitious sisters, Mary and Anne Boleyn, who were rivals for the bed and heart of King Henry VIII. Portman and Johansson will star as the sisters, with Bana playing the King.

The project, based on a script by Peter Morgan, is slated to begin shooting this fall in London.
More On 'The Other Boleyn Girl'...


E-Mail This Article » Share your comments on 'The Other Boleyn Girl'