'Peter Pan's Mrs. Darling Is Cast
[Wednesday, September 11th, 2002]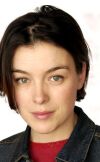 Olivia Williams

Olivia Williams ("The Sixth Sense") will star as Mrs. Darling in P.J. Hogan's big-budget adaptation of "Peter Pan," reports Variety.

Mrs. Darling is the mother of Wendy, John and Michael, the three children who meet Peter Pan, the boy who refuses to grow up, and travel back to Neverland with him.

Williams will star opposite newcomer Jeremy Sumpter, who plays Pan, Jason Isaacs as Captain Hook, and Ludivine Sagnier as Tinkerbell in the $100 million production.

The movie begins shooting in Sept. 30 in Australia. Hogan is helming from his own script, an adaptation of James M. Barrie's classic novel and play.

Pic is being readied for a Christmas 2003 bow.

E-Mail This Article » Share your comments on 'Peter Pan'