Gerard Butler & Steven Strait In 'Priest' Talks
[Monday, June 26th, 2006]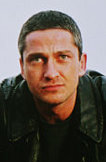 Gerard Butler and Steven Strait are in talks to join Screen Gems' postapocalyptic vampire Western Priest, says the Hollywood Reporter.

The feature, helmed by Andrew Douglas, is based on a comic book by Min-Woo Hyung. It follows a warrior priest (Butler) who disobeys church law by teaming with a young sheriff (Strait) and a priestess to track down a band of renegade vampires who have kidnapped the priest's niece.

The script is by scribe Cory Goodman, who adapted the material for the big screen.

E-Mail This Article » Share your comments on 'Priest'