Kristin Chenoweth Talks On 'Rapunzel Unbraided'
[Tuesday, December 28th, 2004]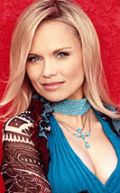 Kristin Chenoweth is going to be the speaking and singing voice of Rapunzel in Disney's upcoming animated movie Rapunzel Unbraided, according to Sci Fi Wire.

"I am Rapunzel, but Rapunzel is a squirrel," Chenoweth said in an interview. "I can't really tell you much more [about the story] than that, other than I'm a squirrel and I'm going to let down my tail."

Chenoweth added that she has a good feeling about Rapunzel, which is very loosely based on the Grimm Brothers' fairy tale. "That is going to be really special," she said. "I've always had this dream of being a Disney character, and now I'm going to get to do that. It's also a musical, so I'll get to sing. It's interesting, because they take the camera in [while recording her voice], and they film you doing your thing, so that they can draw the character like you and use your mannerisms. It's a cool process."

Rapunzel Unbraided, which marks the directorial debut of veteran Disney animator Glen Keane, will be released in 2007.
More On 'Rapunzel: Unbraided'...


E-Mail This Article » Share your comments on 'Rapunzel: Unbraided'