Milla Jovovich Interested In 'Resident Evil 3'
[Friday, September 10th, 2004]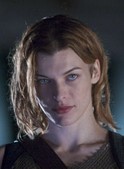 Milla Jovovich, who stars in the upcoming Resident Evil 2: Apocalypse, says shes ready to make the third movie. "Listen, we never expected part one to do as good as it did," she told Sci-Fi Wire. "I always imagined it to be like a maybe cult following at best. But it was like a European action film. ... So, you know, keep our fingers crossed. It'd be great. If people want to see another one, we'll give it to them."

"When we filmed the first one, like, the script went through many changes during the actual filming," Jovovich said. "And by the time we were halfway through, the original ending—me and Matt [Eric Mabius] riding away into the sunset in a Winnebago—felt like it wasn't working, and it was like, 'Look, you know, let's figure out a new ending.' And Paul figured out this really great ending, and we put in the Nemesis, and it was really good. But in some way, a whole new movie sprang out of it, which was really cool, because suddenly we had this false ending, and then suddenly a new movie starts. So sort of based on that, he kept on going in his own mind about the story. Like, 'Where did Alice go next, and what happened?' So he was already kind of thinking about Apocalypse even back then."

Jovovich adds that the sequel ends with a sequence that seems to set up a third film. "We've kind of followed the tradition of the first one to have like the false ending and stuff."
More On 'Resident Evil 2: Apocalypse'...


E-Mail This Article » Share your comments on 'Resident Evil 2: Apocalypse'