'Revenge Of The Nerds' Remake Ceases Production
[Friday, November 24th, 2006]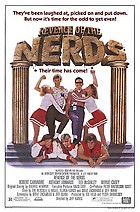 Fox Atomic have officially ceased production on its remake of Revenge of the Nerds, according to Variety.

The project was slated for a release next summer, but was put on hold earlier this month after two weeks of shooting when Emory University, the location for the movie, decided to no longer participate in the film.

"Everybody worked very hard on 'Revenge of the Nerds,' and we're all extremely disappointed that we can't move forward," said Fox Atomic's Peter Rice.

The feature was meant to be a remake of the original that followed a frat for the socially awkward, thick-glasses-sporting set that exacts revenge on the football players who've repeatedly humiliated them. Kyle Newman was set to direct, with a cast that included Katie Cassidy, Jenna Dewan and Dan Byrd.
More On 'Revenge of the Nerds'...


E-Mail This Article » Share your comments on 'Revenge of the Nerds'