Sylvester Stallone To Star In 'Rocky VI'
[Tuesday, October 18th, 2005]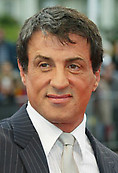 Sylvester Stallone has declared he will reprise his role as Philadelphia working-class hero and former champ Rocky Balboa in Rocky VI.

Stallone says the story has the aging, widowed Rocky initially refusing a chance to get back in the ring. "We'll try to capture the essence of the first couple of films," Stallone told Daily Variety. "There's a computer fight between the reigning world champion and Balboa, and Balboa wins," he said.

"The champion's management says let's do this for real, for charity. Rocky says no but decides to be true to himself even though he's going to be berated by everyone. Just to compete, not to win." Stallone confirmed that he will also write and direct the movie, as he did with the previous four.

Burt Young will return as Paulie, with former heavyweight champion Roy Jones Jr. in talks to play Rocky's opponent, Mason Dixon. Stallone added that the rest of the cast will likely be unknowns.

The project is slated to begin shooting early 2006 in Philadelphia and Las Vegas. No release date has been set yet.

E-Mail This Article » Share your comments on 'Rocky Balboa'