Chelsom To Direct 'Shall We Dance?' Remake
[Tuesday, August 6th, 2002]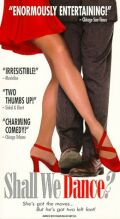 Shall We Dance
(1997)

Miramax Films has set director Peter Chelsom ("Serendipity") to helm its remake of the 1996 film "Shall We Dance?," reports Variety.

The movie tallied a record U.S. box office gross for a Japanese film.

"Shall We Dance?" grossed $10 million in its original release, during which Miramax bought distribution and remake rights.

The romantic comedy concerns a staid working man who takes a ballroom dancing class in an effort to impress a beautiful dance teacher. In the end, the dancing helps him save his marriage.

The movie was discovered at the 1996 Cannes Film Festival.

E-Mail This Article » Share your comments on 'Shall We Dance?'