Jennifer Lopez's Jewellery Found On A Murder Scene
[Monday, July 14th, 2003]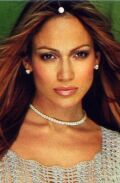 Jennifer Lopez's jewellery was found in a pool of blood at the scene of a murder according to The Sun newspaper.

The jewellery was stolen from the set of Shall We Dance?, which she is currently filming with Richard Gere and Susan Sarandon in Canada.

A 38-year-old man was found decapitated in a hotel room just yards from the film set where J-Lo's £3,000 necklace was reported stolen.

According to the police, Robin Robert Greene sneaked on to the set on July 1 and stole the necklace which was later found in a pool of blood near his headless corpse.

A local police spokesman said: "The killer was not the one who stole the necklace. I can only surmise the victim took it but we may never know."

Detectives are now trying to discover if the necklace was a motive in the killing and whether anyone on the set knew Greene.

A man named Sydney Teerhuis has been arrested and charged with second-degree murder but he has not been accused of taking the jewellery.

E-Mail This Article » Share your comments on 'Shall We Dance?'