John Cleese Lands 'Shrek' Sequel Role
[Wednesday, June 12th, 2002]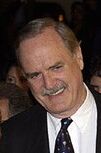 John Cleese is to provide the voice for Cameron Diaz's father in "Shrek 2", reports Ananova.

The former Monty Python star is about to start work on the animated movie.

He says he's looking forward to the role as it means working away from TV, which he now finds dreadful.

Speaking at the Banff TV festival in Canada, he said working on Shrek "is much like radio. I started out in radio. It's my favourite medium."

He told the Calgary Sun: "This is not the golden era of British television... It's terribly disappointing because it used to be the least bad television in the world."

He was especially dismissive of reality TV, saying: "It's awful to watch when people are being humiliated. Call me old-fashioned, but we are getting back to the arena, aren't we?"

Cleese has had bad experience with recent TV projects in the US. He appeared in the sitcom Wednesday 9:30 (8:30) Central, which was axed after just two weeks, and a comedy project he tried to pitch failed to make it to air.

The comic also says he prefers not to make comedy shows nowadays, instead choosing documentaries such as The Human Face.

"The trouble with comedy is that you don't really learn anything doing it," he said.

"If I had another existence and God said, 'No, you can't be a comic,' that would not be a problem at all. I could imagine, for instance, being a biologist."

E-Mail This Article » Share your comments on 'Shrek 2'