Radha Mitchell As Lead In 'Silent Hill'
[Monday, April 25th, 2005]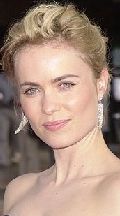 Radha Mitchell is to star as the lead in the video game adaptation Silent Hill, according to the Hollywood Reporter

Principal photography is due to begin Monday in Toronto on the suspense horror feature, directed by Frenchman Christophe Gans (Brotherhood of the Wolf), and will run through July 22.

The movie is budgeted at $45 million-$50 million, with additional casting to be finalized.

Silent Hill is based on the hugely successful Konami game in which Rose (Mitchell) desperately searches for her lost daughter in the mysterious, terrifying town of Silent Hill, where they are trapped.

E-Mail This Article » Share your comments on 'Silent Hill'