First Look At Peter Parker
[Tuesday, April 3rd, 2001]
SpiderManHype have received a picture of Tobey Maguire as Peter Parker and James Franco as Harry Osborn. The picture was taken from the Ad to 'What is a Producer?', which will be shown on E! this Saturday. The show features 'Spiderman' producer Laura Ziskin, so hopefully we'll see some more spidy shots.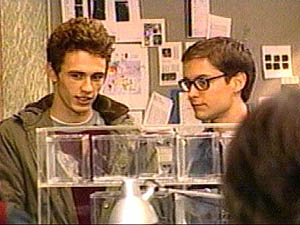 BC who sent in the picture says:

That show about producers that's gonna be on E! this weekend? Well, they've been advertising it, and they show a split second of Tobey with the glasses on that a previous scooper mentioned. Got these screen shots of it. Plus, the logo on the director's type chair! Very very cool stuff. Enjoy them, use them, give me credit if you want. Just doing my part. Is that then first pic of Tobey as Peter Parker that we've seen?

E-Mail This Article » Share your comments on 'SpiderMan'