Xena Punk 'Spider-Man' Cameo Pic (UPDATED)
[Monday, April 23rd, 2001]
Lucy Lawless is making a cameo appearence as a punk rocker in the upcoming 'Spider-Man' movie. The Aussie Kiwi actress, also known as Xena, Warrior Princess, is currently filming her scenes in New York, USA.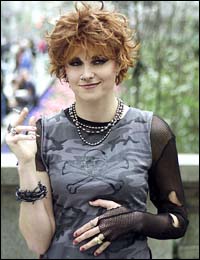 Lucy shot her final episode as cult heroine Xena in New Zealand last month.

'Spider-Man' is expected to get its general release on May 3, 2002. Thanks to The Sun newspaper.

UPDATE: Thanks to all the people that wrote in to correct us on the fact that Lucy Lawless is from New Zealand (making her a Kiwi :) and not an Australian.

E-Mail This Article » Share your comments on 'SpiderMan'