Spider-Man Sets $114m Record Opening!
[Sunday, May 5th, 2002]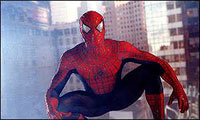 Columbia Pictures highly anticipated Spider-Man film has broken box office records in its opening weekend, beating the previous record holder Harry Potter.

The adaptation of the comic book has taken in an estimated $114m in its opening three days, and $43m on Saturday.

The studio behind the movie, said Spider-Man had beaten both single day and weekend records of Harry Potter.

Harry Potter had previously taken in $33.5m in its first day $90.3m in its opening weekend.

E-Mail This Article » Share your comments on 'SpiderMan'