Alfred Molina Is 'Doctor Ock' In 'Spider-Man 2'
[Wednesday, February 19th, 2003]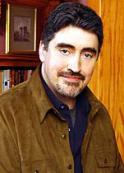 Columbia Pictures are confirming that Alfred Molina (Frida, Identity) has signed up to to play Spider-Man's new archenemy "Doc Ock" in the highly anticipated The Amazing Spider-Man.

The sequel will reunite the cast and filmmakers from the original blockbuster, including Tobey Maguire, Kirsten Dunst and James Franco along with director Sam Raimi, and producers Laura Ziskin and Avi Arad.

"Alfred Molina has a remarkable facility for everything from classic drama to mainstream comedy and he is the ideal choice for 'Doc Ock,'" said Amy Pascal, Chairman of Columbia. "We wanted an actor that would bring irresistible depth and dimension to this role and we are all tremendously excited to be working with Alfred."

Raimi will begin principal photography in April and the new film will be released in 2004.

E-Mail This Article » Share your comments on 'SpiderMan 2'