Daniel Gillies Cast As Mary-Janes Love Interest
[Thursday, April 10th, 2003]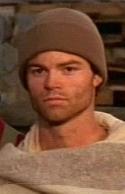 New Zealand actor Daniel Gillies is to star as Kirsten Dunst's love interest in Columbia Pictures' Spider-Man 2, reports Variety.

Gillies will portray John Jamison, an astronaut who woos Mary Jane Watson (Dunst), true love of Peter Parker (Tobey Maguire).

After wrapping 'Spider-Man 2', Gillies will shoot 'Head in the Clouds', opposite Charlize Theron, Penelope Cruz and Stuart Townsend, for director John Duigan. He also appeared in the Showtime series 'Jeremiah'.

'Spider-Man 2' begins production Saturday under the direction of Sam Raimi. Laura Ziskin produces, with production co-president Matt Tolmach supervising for the studio.

E-Mail This Article » Share your comments on 'SpiderMan 2'