New 'Spider-Man 2' Set Photos Online
[Tuesday, April 22nd, 2003]
IMDb have posted some new pictures from the set of the Spider-Man sequel - The Amazing Spider-Man. Check out many more by clicking on the picture.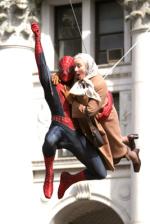 DarkHorizons have also received a report from the set.

"While walking downtown near City Hall we saw a set that was attracting a large crowd of viewers. When we got closer we found out it was for Spider-Man 2, and the scene we saw involved spiderman, an old woman who was apparently being saved and some people in awe walking towards spiderman. There was also a large crane on the set so it might be that before we got there he was lowered from it, presumably holding the old woman. The crew is now (Monday April 21st) at the corner of Bleecker and Carmine, I don't know what kind of scene will be filmed. When I came back from work they were indeed shooting a scene: a guy (couldn't make out if it was Tobey Maguire) was on a scooter attached to a quad ATV with the camera on it, and they were driving on the sidewalk. I did not have my camera with me, and when I came back I could only make a picture of the area where they filmed, plus the scooter. Apparently he is supposed to be a pizza delivery guy".

E-Mail This Article » Share your comments on 'SpiderMan 2'