First SpiderMan 2 Trailer Now Online!
[Monday, December 15th, 2003]
Sony Picture have released the very first trailer for SpiderMan 2, exclusively online. You can check it out here.

Following its online premiere, the new trailer will segue into U.S. theaters on Wednesday, December 17, where the studio is targeting such films as The Lord of the Rings: The Return of the King.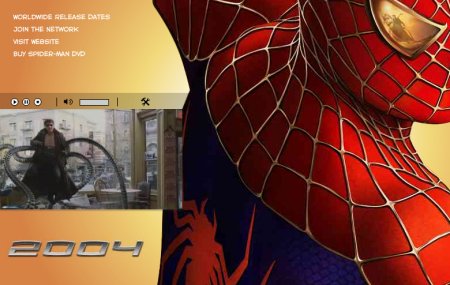 In SpiderMan 2 Tobey Maguire returns as the mild-mannered Peter Parker, who is juggling the delicate balance of his dual life as a college student and a superhuman crime fighter.

The entertaining adventure escalates and SpiderMan's life becomes even more complicated when he confronts a new nemesis, the brilliant Otto Octavius, (Alfred Molina) who has been reincarnated as the maniacal and multi-tentacled "Doc Ock."

E-Mail This Article » Share your comments on 'SpiderMan 2'