James Franco On 'SpiderMan 2' Role
[Tuesday, March 23rd, 2004]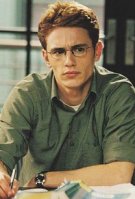 James Franco, who will be reprising his role as Harry Osborn in SpiderMan 2, says he has a larger role in the sequel. "I think I have as great of an arc in this as you could ask for in any movie," Franco told SciFi-Wire.

The sequel will be picking up from the original, where Harry swears to get revenge on Spider-Man. "The first one there was a wonderful setup," said Franco. "Harry's whole life is to get his father's approval, and before he achieves that, his father was taken from him. After that he's kind of, I don't know, half a man."

"He's troubled. Even if he succeeds in life, he'll never have pure satisfaction, because his father will never be there. So he's a troubled man. Now he has two places to go: Still try to please the ghost of his father by succeeding in business or whatever, also by trying to avenge his death. I guess he goes to some dark places."

E-Mail This Article » Share your comments on 'SpiderMan 2'