Thomas Haden Church Is 'SpiderMan 3' Villain
[Tuesday, March 22nd, 2005]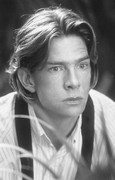 Sideways star Thomas Haden Church has been cast as the new villain in Sony Pictures SpiderMan 3, according to the Hollywood Reporter.

Church will join Tobey Maguire and Kirsten Dunst, stars of the previous two movies. The filmmakers, however, are not revealing the identity of the new villain.

"In addition to the ongoing relationship between Peter Parker and M.J., these films are driven by the great actors who have brought our villains to life," said director Sam Raimi. "Thomas Haden Church will be a fantastic and challenging new nemesis, and we all look forward to working with him."

The project will begin production early next year, for a scheduled May 4, 2007, release.

E-Mail This Article » Share your comments on 'Spider-Man 3'